Jacki Skeels interviews Bruce Balfour a few hours after he is deported from Lebanon on behalf of ASSIST News Service in Los Angeles, CA USA. He was arrested in July on false charges.
ASSIST News Service (ANS) - PO Box 2126, Garden Grove, CA 92842-2126 USA
E-mail: danjuma1@aol.com, Web Site: www.assistnews.net
Thursday, September 4, 2003

BRUCE BALFOUR IN HIS OWN WORDS
An interview On Behalf Of Assist News Service AT Los Angeles International Airport on Wednesday, September 3, 2003
By Jacki Skeels



Special for ASSIST News Service

LOS ANGELES, CA (ANS) -- ASSIST NEWS: BRUCE, HOW DO YOU FEEL ABOUT YOUR ORDEAL IN LEBANON THAT HAS JUST CONCLUDED WITH YOUR GETTING DEPORTED FROM A COUNTRY YOU HAD COME TO HELP?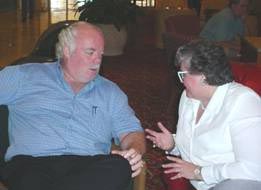 BALFOUR: It's wonderful to be on civilized soil again after being falsely arrested and imprisoned in unbelievable conditions from the time I arrived at Beirut International Airport on July 10th until I was deported on Wednesday, September 3rd. Although there was no proof for the case made against me of "collaborating with Israel," the Hezbollah saw to it that I became the only non-Lebanese detained amongst some 10,000 prisoners behind bars, most of whom have been jailed on innuendos or hearsay, like I was, and have not had Canadian activists and Canadian governmental staff pulling for me night and day like faithful draft horses as I did.

My reason for being for Lebanon was because of my love for its cedars and their reforestation, not to spy for anybody. God is very interested in these cedars too and tells us in Psalms 104:15 that God planted them in the garden of Eden. It is said that the other trees in Eden were jealous of this tree that has meant so much to the Lebanese.

The Bible book of Ezekiel says how beautiful the cedars are. King Solomon spent 13-1/2 years building a colossal palace of Lebanese cedars that exposed its beautiful wood and seven years to build the Lord's temple in Israel from cedar wood that was plated in gold.

Having been raised in a free country and having lived in that free country most of my adult life, I am absolutely appalled that Lebanon is treating so many of its citizens so inhumanely. In my opinion, this is because the Syrian and Hezbollah-controlled governmental regime--with Saudi backing--is so evil it does not care for the human rights of some 10,000 of its citizens who are held under the worst conditions in prisons without just cause or for the replanting of its sacred cedars.

ANS: WHAT WAS THE LOWEST TIME DURING YOUR EXPERIENCE? DID YOU EVER LOSE HOPE? AND WHAT WERE SOME HIGH POINTS DURING YOUR IMPRISONMENT AND FOUR COURT APPEARANCES?

BALFOUR: I never lost hope because I constantly prayed that 'no evil weapon fashioned against me would prosper' and other scriptural promises. I kept asking for heavenly angels to guard each facet of this diamond in the rough, I daily 'put on the whole armor of God' as the Apostle Paul admonished in his New Testament writings and I asked the Holy Spirit to envelop me in bubble upon bubble of protection and help me know what to say to whom and when.

I am certain there were Hezbollah and government 'plants' in both the military prison where I waited for court appearances and in Roumieh prison so I had to be careful not to say the wrong thing to someone who could be a 'plant' who was likely being paid to come up with 'proof' that I should be detained.

There were moments of both highs and lows, though. The lowest was last Wednesday, August 27th, during my third appearance before a military tribunal court. As I spent so much time in the courtroom carefully giving a Bible study to the one orthodox Christian and the several judicial Muslims who had the power to free me or make me disappear in Lebanon's abominable prison system, I was answering question after question about what I believe in.

I could see that the Syrian and Hezbollah-appointed judge could decide for no just reason to never let me go free and there would be nothing I could do to stop that from happening. That realization was a real emotional low, but I concentrated on the fact that God can work miracles on my behalf and I felt comfort in that fact and in the knowledge that thousands of people were praying for my release.

My high point was receiving a visit, Saturday, in Roumieh Prison from three Canadian government officials, including Minister of Immigration Coderre who were in Lebanon for a few days to advocate on my behalf in appointments with high level Lebanese government officials. They arrived in an armored limousine with my friends from the Canadian Consul staff in Beirut who worked tirelessly to help free me. I felt these visitors made quite an impression on the guards, government plants and inmates at Roumieh Prison and did a great deal to influence public opinion in my favor.

Other high points included being able to share the gospel of salvation in Jesus with Muslim and Maronite Catholic inmates alike who had never heard the gospel shared by an Evangelical Christian. I particularly appreciated the hours of conversation that respected Muslim human rights attorney, Mohammed Moghraby and I had concerning Lebanon's human rights issues and my belief in the Creator vs. his mindset of science and reason. We lay side by side at night on a cement prison corridor crowded with men. Moghraby's three-week imprisonment was on false charges, as well. Canadian-Lebanese human rights activists were fighting to bring attention to both of our cases while he and I were imprisoned and these activists pushed to make a big difference in our both being released.

ANS: WHY DO YOU THINK YOU WERE CHARGED?

BALFOUR: There are many things that have been printed in answer to that question in recent weeks but the bottom line answer is this: 'Yahshua Ha Mechiah,' Jesus the Messiah wanted me to become a voice for the oppressed in Lebanon's prisons and I have already started my work to be a spokesman for the desperate people who are incarcerated in Lebanon who have lost hope of anyone in the outside world ever doing something about their plight.

I was sent to Lebanon by my Master and Creator who wanted me to be imprisoned on false charges so I could bring worldwide attention to the hundreds of stories I heard while incarcerated from innocent men whose families must spend up to $1,000 US each year to keep them supplied with food and clothing while they are not brought up for a fair trial or charged with a crime. Interestingly, I dreamed several times before making this trip to Beirut that I had been imprisoned there but I brushed off this dream and did not take it as a warning or an omen.

These men are not allowed to hold their wives or children and have lost all hope of anyone in the western world bringing this abominable situation to the attention of the free world. There is no welfare system to provide for their families while they are falsely imprisoned.

ANS: THEN WHAT HARDSHIP BOTHERED YOU THE MOST DURING YOUR IMPRISONMENT AND UNJUST TRIAL?

BALFOUR: The heat, the filth, the stench, the lack of proper sanitation and the unbelievable, crowded conditions were abominable but seeing other prisoners beaten who are innocent of trumped up charges made against them on the grounds of hearsay was the hardest thing on my mind. These men did not have someone advocating for their release as I did.

ANS: SINCE THE LEBANESE GOVERNMENT DEPORTED YOU TODAY AND YOU ARE NOT ALLOWED TO RETURN TO THAT COUNTRY FOR FIVE YEARS, WHAT WILL HAPPEN TO THE CEDAR REFORESTATION PROJECT FOR WHICH YOU WERE THE FIELD DIRECTOR? ALSO, WHAT WILL YOU BE DOING WHEN YOU RETURN TO CANADA TO KEEP YOUR PROMISE TO THE FORGOTTEN MEN IN LEBANON'S PRISONS WHO ARE VICTIMS OF HUMAN RIGHTS VIOLATIONS?

BALFOUR: The interfaith planting crew that collaboration between our Cedars of Lebanon project and the Lebanese Friends of the Cedars project planned to utilize could have provided jobs for Lebanese citizens and done something constructive for Lebanon but all those worthwhile plans are dead now.

I hear from you, Jacki, that some press releases this week say my friends will be carrying on the Cedars of Lebanon reforestation project in collaboration with Lebanon's Friends of the Cedar who have grown 7,000 four-year old cedar seedlings that should have been planted in the depleted cedar groves in the Boucherre region a year ago. That's just part of the misinformation that's in the press because you can't hold a publicity conference in a Lebanese prison.

It was also published in a Beirut newspaper that Grant Livingstone who was sentenced in absentia on the same trumped up charges as I faced would have to serve a one-year prison sentence in Beirut before being allowed back into the country of Lebanon in five years, which is the time limit for re-entry that has been imposed on me. Grant is 81 years old and he could not stand up to the intolerable human rights violations going on in Lebanon's prisons. He will remain in Israel with his wife where he's worked for a humanitarian project for 21 years and he will not be serving any time in one of Lebanon's abominable prisons.

As you know, I am already granting press interviews to draw attention to human rights violations in Lebanon's prison system and to draw attention to so many prisoners' desire to be free from this oppression perpetuated by Lebanon's current corrupt political regime.

In addition, I am accepting speaking engagements at service organizations and churches in the United States and Canada in this regard and must raise some $4,000 to finish paying the Canadian Consul in Beirut for the capable legal defense that Attorneys Ibrahim Hariri and George Assaf provided me. The Consul's permanent chief legal advisor, Attorney Fausi Metni, was primarily an observer on my case but he was extremely sharp and fluent in English which was very encouraging to me in the courtroom where most proceedings were carried out in Arabic.

ANS: IS THERE ANYTHING ELSE, BRUCE, THAT YOU WOULD LIKE TO SHARE WITH ASSIST'S READERS?

BALFOUR: Yes. When I return to Canada in a few days, I must also complete the last two chapters of the book I am writing entitled, "Rivers of Blessing." Its Canadian publisher is anxious for me to include my recent ordeal in Lebanon and meet a pre-Christmas release deadline. I need to raise an additional $4,000 to launch that project.

I would like interested parties who wish to schedule a speaking engagement or interview with me to contact me in care of the web site, http://members.shaw.ca/cedarsoflebanon/Pages/MainFrameSet.htm or contact me in care of:

John Lucas, Sr.
Maranatha Evangelistic Association , Box 1292
Calgary, Alberta T2P 2L2
Phone: (403) 283-2263

ANS: I SEE THAT YOU STILL HAVE RED MARKS ON YOUR WRISTS. TELL ME ABOUT THAT. WERE YOU ESCORTED ONTO YOUR FLIGHT THIS MORNING IN CUFFS?

BALFOUR: Whenever I was transported to military prison, 100 feet from the military tribunal where I was held until I was interrogated during four days' court proceedings, I had tight handcuffs that held my wrists behind my back as we bumped along over Beirut's rough roads at breakneck speed.

The Canadian Consul staff arranged to have me released into their custody the night before my flight so they arranged for my overnight lodging in a king size bed in a first class hotel. I awoke and wondered why I was not able to push myself up off the cement floor, I was in such a state of traumatic shock at finding when I woke up this morning that my prison ordeal had really ended.

The Canadian Consul staff were wonderful to me; when Mr. Mebs Velji saw me directly to my British Airways flight this morning at Beirut International Airport I felt as if I were leaving a good friend.